IMPORTANT CHANGES TO THE CONNECTOR SERVICE - COVID-19
The Connector will only run one return trip each day from Monday-Friday.
AM: Depart Hāwera at 9.35am
PM: Depart New Plymouth at 1.50pm
This service will be Fare Free.
We are providing this service to members of the public who have a genuine medical emergency need only.
We expect other members of the public to follow COVID-19 Level 4 advice and stay at home for the duration of the alert.
Visit the covid-19.govt.nz website for more information on the alert levels.(external link)
Keyboard users and screen reader users: After selecting an option from one of the combo boxes below, pressing Tab will take you to the timetable page.
Hāwera-New Plymouth (extending from Ōpunake first service)
Use our online booking form if you are using the first or final service of the day
Use our online booking form if you are a WITT student using any service

SH3 ROADWORKS - DELAYS EXPECTED: Major roadworks on SH3 at Tariki will disrupt traffic and may delay services for up to 10 weeks starting 16 March.

Map showing Hāwera-NP Connector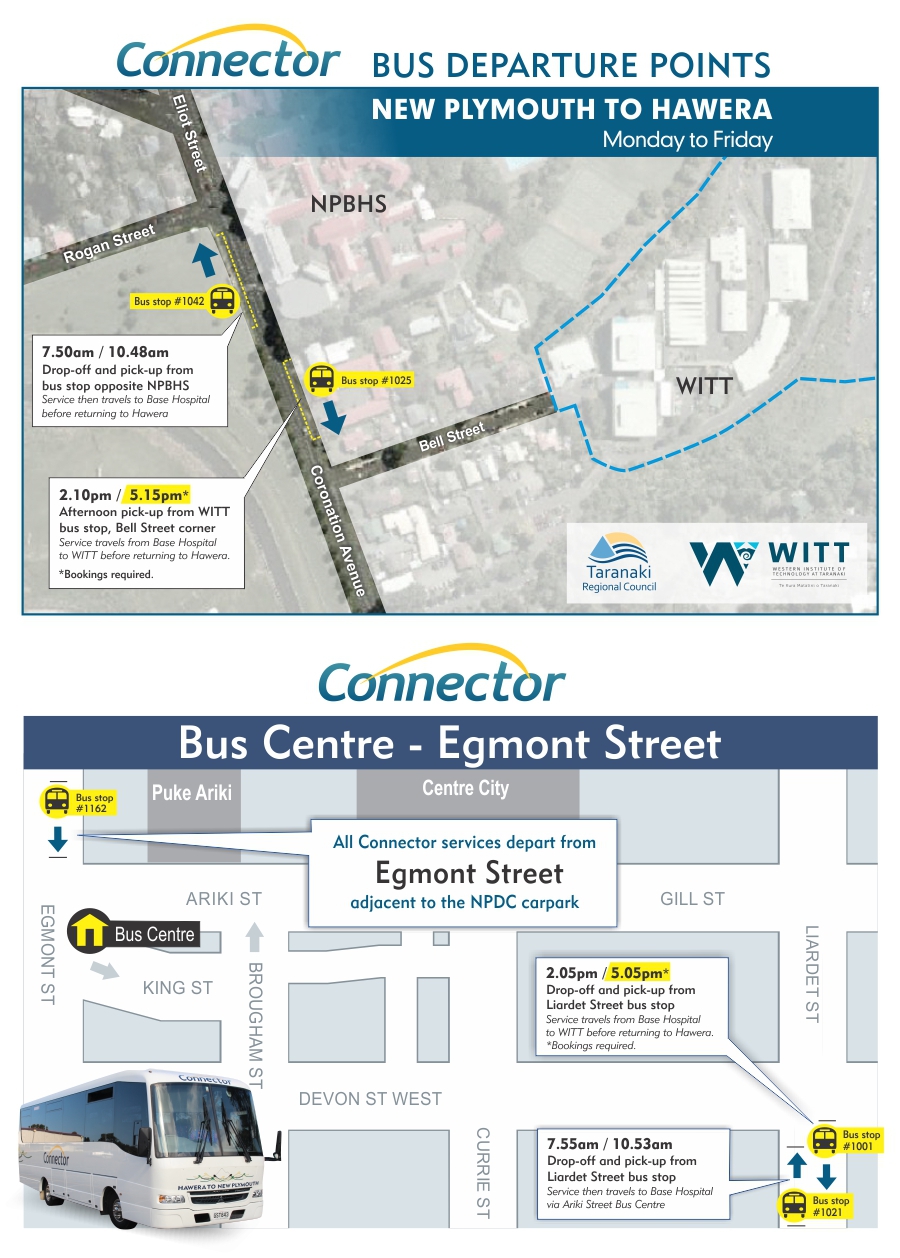 Connector fares & Smart Card information
Fares to/from New Plymouth
ADULT
Opunake
Hāwera
Eltham
Stratford
Tariki
Inglewood
Egmont Vill
$15 cash
$12 cash
$10 cash
$9 cash
$7 cash
$5 cash
$5 cash
$12 card
$9.60 card
$8 card
$7.20 card
$5.60 card
$4 card
$4 card
CHILD and CONCESSION
Opunake
Hāwera
Eltham
Stratford
Tariki
Inglewood
Egmont Vill
$11.20 cash
$9 cash
$7.50 cash
$6.70 cash
$5.20 cash
$3.70 cash
$3.70 cash
$9 card
$7.20 card
$6 card
$5.40 card
$4.20 card
$3 card
$3 card
Detailed fare table [PDF, 73 KB]
These fares one-way only

Under-5s free when accompanied by an adult.

WITT students and TDHB patients and visitors travel for free - conditions apply.

SuperGold Card holders travel for free between 9am and 3pm and after 6.30pm. Card must be shown.

Concession fares available for Communities Services Card holders, senior citizens, non-WITT tertiary students, Access card holders - proof of ID required
SMART CARDS
Passengers are encouraged to use Smart Cards, which bring a discount on cash fares. You will need to register and provide ID to obtain a card.
The initial card costs $45 (non-refundable), which includes single-trip credits to the value of $40 to get you started. Smart Cards can be recharged on the bus, at the i-SITEs at Puke Ariki (New Plymouth), Stratford and Hāwera, and at the Ariki St Bus Centre in New Plymouth.
Connector Smart Cards are available from:
Opunake — Pickering Motors Ltd, 11 Tennyson St

(top-ups also available)

, or Opunake Library Plus, 43 Tasman St.
Hāwera —

South Taranaki i-SITE, 55 High St (top-ups also available).

Manaia —

Manaia Library Plus, 22 South Rd.

Eltham —

Eltham Library Plus, 168 High St.

Stratford —

Stratford i-SITE, Prospero Place (top-ups also available).

Inglewood —

Inglewood Library and Service Centre, 25 Rata St.

New Plymouth —

Puke Ariki i-SITE, 1 Ariki St (top-ups also available), or Bus Centre, 19 Ariki Street, (Dalroy Tours office), 9.30am-3.30pm Mon-Fri (top-ups also available).
CONCESSION FARES
Cash and Smart Card concession fares are available for children aged 5-16 years, non-WITT tertiary students, senior citizens, beneficiaries and ACCESS card holders
To claim a concession fare you must show the driver an appropriate form of ID.
Seniors: Super Gold card,

Tertiary students: Student ID

Child: Student ID on request of driver

Beneficiary: Community Services Card

ACCESS – ACCESS card - for people with impairments. Contact Taranaki Disability Information Centre on 06 759 0019.
SUPERGOLD CARD
Holders of SuperGold Cards can travel free on off-peak Connector services (between 9am and 3pm).
The SuperGold Card is available to all eligible New Zealanders aged 65 or over and those under this age who receive NZ Superannuation or the Veterans Pension. For more information, go to www.supergold.govt.nz(external link).