BUS SERVICES IN 'ORANGE' UNDER COVID-19 TRAFFIC LIGHT SYSTEM'
The Connector runs four return trips Monday to Friday between Hāwera and New Plymouth, extending from and to Opunake on the first and last run. Info line: 0800 26 63 28
Booking is essential - all passengers, all services.
Passengers except hospital patients/visitors can book by using our online booking form calling 0800 26 63 28 or emailing pickering.motorsltd@gmail.com.
Hospital patients/visitors should book (for all services, no matter what time of day) by calling the TDHB - Hāwera 278 9929, Stratford 765 7189 or New Plymouth 753 6139.
WITT students travel for free and (Bee Card is not required) but must book in advance and produce a current student ID card when boarding the bus.
The Hāwera-New Plymouth Connector is operated by Pickering Motors Ltd under contract to the Taranaki Regional Council, with funding support from the Taranaki District Health Board and WITT.
Connector fares & Bee Card information
Fares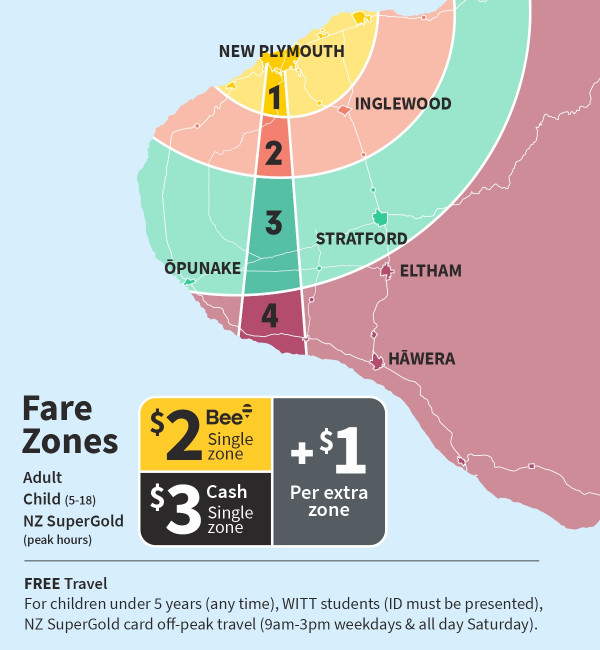 Bee Cards
Bee Cards are the preferred method of contactless payment. Bee cards cost $5, plus a minimum top-up of $5. The minimum recharge amount is $5.
They can recharged on the bus (cash only). Cards can be obtained online at www.beecard.co.nz(external link), or from one of our Taranaki retailers:
New Plymouth i-SITE located within the Puke Ariki building on St Aubyn Street, New Plymouth |

10am-5pm daily
Tranzit at 15 Sunley Street, Westown |

8am-5pm Monday to Friday
Bell Block Library at 88 Parklands Avenue |

9am-5pm Monday, Wednesday & Friday, 9am-6pm Tuesday & Thursday, 9am-12pm Saturday
Waitara Library at 15 Queen Street |

9am-5pm Monday, Wednesday & Friday, 9am-6pm Tuesday & Thursday, 9am-12pm Saturday
Stratford i-SITE inside the Stratford Library in Prospero Place |

8.30am-5pm Monday to Friday, 9am-1pm Saturdays
South Taranaki i-SITE at 55 High Street, Hawera |

8.30am-5pm Monday to Friday, 10am-3pm weekends
Pickering Motors Ltd at 11 Tennyson Street, Opunake |

7.30am-5pm Monday to Friday
Links and downloads
SUPERGOLD CARD
Holders of SuperGold Cards can travel free on off-peak Connector services (between 9am and 3pm) when using a registered Bee Card with concession loaded.
The SuperGold Card is available to all eligible New Zealanders aged 65 or over and those under this age who receive NZ Superannuation or the Veterans Pension. For more information, go to www.supergold.govt.nz(external link).