Bee Card is your bus payment card which allows you to 'tag on and tag off' the bus, provides you with cheaper fares and is able to be used across nine regions around New Zealand, including Taranaki.

How do I get my Bee Card?
Online
In Person
Pick up your Bee Card from one of our Taranaki retailers:
New Plymouth i-SITE located within the Puke Ariki building on St Aubyn Street, New Plymouth | 10am-5pm daily
Tranzit at 15 Sunley Street, Westown | 8am-5pm Monday to Friday
Bell Block Library at 88 Parklands Avenue | 9am-5pm Monday, Wednesday & Friday, 9am-6pm Tuesday & Thursday, 9am-12pm Saturday
Waitara Library at 15 Queen Street | 9am-5pm Monday, Wednesday & Friday,9am-6pm Tuesday & Thursday, 9am-12pm Saturday
Stratford i-SITE inside the Stratford Library in Prospero Place | 8.30am-5pm Monday to Friday, 9am-1pm Saturdays
South Taranaki i-SITE at 55 High Street, Hawera | 8.30am-5pm Monday to Friday, 10am-3pm weekends
Pickering Motors Ltd at 11 Tennyson Street, Opunake | 7.30am-5pm Monday to Friday
After you've purchased your Bee Card in store, please allow at least 12 hours for the card to become active online before adding it to your Bee Card account.
*You will need to top up your card with a minimum of $5 to get started
Still have questions? Visit our FAQs(external link)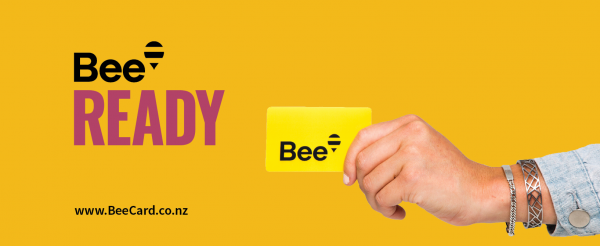 We recommend registering your Bee Card for extra benefits. These include:
Check your balance and top up online

Protect your balance if your card gets lost or stolen

Manage multiple cards at once. A great feature for families with multiple cards

Set up auto top-ups to ensure you always have sufficient funds to travel

Apply the child, youth, Community Connect or SuperGold concessions to your card online

Ensure you get the cheapest possible fare
Ready to get started?
Head to beecard.co.nz(external link) now

Need help?

Contact the TRC Transport Team at transport@trc.govt.nz
If you would like to speak to someone you can contact the team on 0800 BEE TRC (9am – 4pm weekdays only).