To Maryanne Shearman, the sight of kererū flying over native bush represents hope for the taiao.


"And that's exactly what the predator free movement is - hope," the Taranaki artist says.
Maryanne's painting 'Reo o te Kūkupa' is one of 50 works by 50 New Zealand artists that will be on display at Pukeiti from 16 to 30 April 2023 as part of the inaugural PredARTor Free Showcase.
Kūkupa, meaning dove, is another name for the kererū and for Maryanne it is a symbol of peace and hope for the future.
"It's a prayer for healing for the bush, the land and then in turn, the people."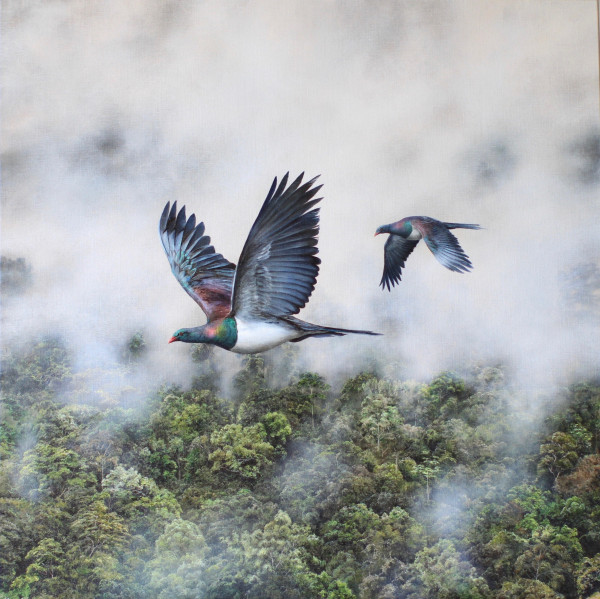 The PredARTor Free exhibition aims to celebrate and raise awareness of Taranaki and New Zealand's predator free journey. Over the three Sundays of the event, Towards Predator-Free Taranaki and other conservation groups will host free walks, talks and information sessions at Pukeiti.
Maryanne says it is a privilege to be part of the exhibition and it was an "easy yes" when she was invited to take part.
She has been to a couple of kiwi releases at Pukeiti with her children, who had even helped name one of the kiwi. She painted 'Reo o te Kūkupa' especially for the exhibition.
Each painting is part of a deeper, ongoing korero for Maryanne, who is five years into her learning journey with Te Reo Maori me ōna tikanga and has a deep respect for Te Ao Maori. Her work is predominantly landscapes and birds. While beautiful at face value, they also reflect themes around how she as a Pākehā woman fits in the land and her role within it.
Curator Anna Scott says the exhibition is shaping up to be "something quite special". All the artists were committed to the predator free kaupapa and all had jumped at the chance to be involved.
Art has the power to spark conversation, create a movement and to inspire positive change, she says.
Anna grew up visiting Pukeiti and says that in the last five years the bird life has been prolific, thanks to predator control.
"Now's the time to celebrate that. Let's celebrate the progress that's been made and grow awareness of the job left ahead and how everyone can contribute."
The exhibition includes a variety of mediums, with artists drawing on their personal connection to the environment and nature.
Taranaki Kiwi Trust has commissioned a piece by Geoff Noble, with profits from the sale going towards protecting kiwi in Taranaki. Geoff has created a reproduction of a Western Brown Kiwi and the complex colours of their feathers and native Taranaki bush.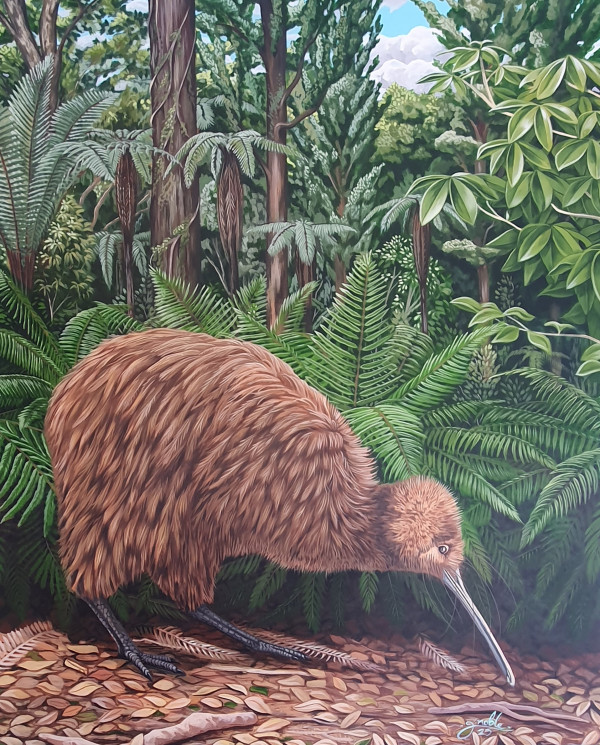 Taranaki Regional Council Regional Gardens Manager Stuart Robertson says it is an honour to have such incredible art on display at Pukeiti, shining the spotlight on an important issue.
The PredARTor Free exhibition is open every day from 16 to 30 April, between 10am and 3pm. Entry is free and artworks will be available for purchase. The Rainforest Café at Pukeiti is open every day of the exhibition (except Mondays) from 10am to 4pm.
The event programme is at www.trc.govt.nz/pukeiti(external link) - get in quick, spaces are filling up fast.