IMPORTANT UPDATE TO CITYLINK SERVICES
Download the updated Citylink March 2020 timetable here [PDF, 503 KB].
All Citylink routes are following their usual street pattern excluding Routes 9 Fitzroy and 20 Bell Block and Waitara which will be combined.
We are operating Routes 1 to 8 with services departing at:
7.00am approx. for services
7.30am
8.50
10.40
2.10pm
2.45
4.20
5.10
Route 9 and 20 will be combined (Waitara, Bell Block and Fitzroy) with services departing at:
Waitara to NP
7.10am
9.25
3.15
NP to Waitara
8.10am
10.25
5.25pm
Route 40 Oakura
All services cancelled.
IMPORTANT
We are providing these bus services for essential services workers, for people who have genuine medical emergencies and need to use public transport, for people who need to travel to the supermarket, and for people who need to visit medical facilities such as pharmacies.
We remind you that if you are unwell please do not use public transport.
Our drivers have the right to refuse carriage.
Physical distancing is mandatory.
As part of the Government's requirements for the tracing of each passenger, you will be required to state your name and destination to the on-board CCTV.
Follow all instructions of the driver.
Physical Distancing
In an effort to help physical distancing on our bus services you will find seats with Xs and some seats taped off.

We ask that you please:
- Fill up the bus starting from the back
- Sit in the seats that don't have an X

Each bus will only be able to take seven passengers (including one wheel chair space) so once all seats are taken the bus won't be able to stop to take more passengers.
These are extraordinary times so we ask that you please cooperate, be kind, and be mindful of those around you.
Keyboard users and screen reader users: After selecting an option from one of the combo boxes below, pressing Tab will take you to the timetable page.
City (Ariki St) to Bell Block/Waitara
Map showing Route 20 - Bell Block/Waitara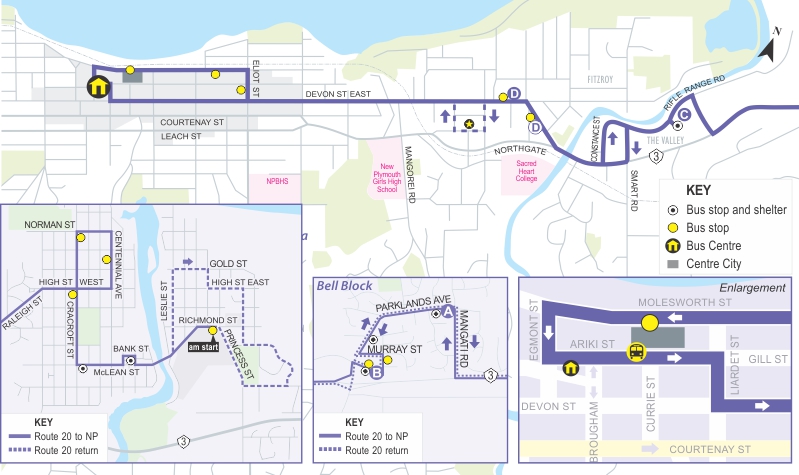 Citylink fares - Bell Block-Waitara
Zone
Within NP
NP

↔

Bell Block
BB

↔

Waitara
NP

↔

Waitara
Adult fares - single trip

Cash

$3.70
$4.20
$4.20
$6.20
Smart Card
$2.67
$3.09
$3.09
$4.63
Child and concession fares - single trip
Cash
$2.30
$2.60
$2.60
$3,80
Smart Card
$1.80
$2.10
$2.10
$3.00

General information on Citylink fares
Fare zones
New Plymouth: New Plymouth from the 100 km/h sign on South Road (west of NP) through along Devon Road (SH3) north up to and including Egmont Road. South to the corner of SH3 and Mangorei Road.
Bell Block: Bell Block township from (but excluding) Egmont Road along Devon Road (SH3), along Devon Road through to and including Mountain Road.
Waitara: Waitara township from (but excluding) Mountain Road through Brixton, to the corner Main North Road and Bayly Street. South along Princess St to and including Rahiri Street
Transfer tickets
The ticket you get from the driver (your fare receipt) doubles as a free transfer ticket, allowing you to transfer directly from one route to another route within an hour of boarding the first bus. Present the ticket to the next bus driver.
Smart Cards
Want discounted fares? Want to avoid the hassles of carrying cash? Smart Card ticketing is available on all services.
The initial cost is $15 — $5 for the card and $10 worth of travel to get you started. The minimum recharge amount is $5. They can recharged on the bus (cash only) or at Puke Ariki i-SITE, Ariki St Bus Centre, Waitara Library, Bell Block Library or Tranzit Coachlines.
Cards can be obtained from:
Puke Ariki i-SITE.

Bus Centre Ariki Street, (Dalroy Tours office), between 9.30-3.30pm Monday to Friday

Tranzit Coachlines, 15 Sunley St, New Plymouth.
Application forms are also available on Citylink buses, or can be downloaded from this page.
On the bus, place the Smart Card on the electronic card reader and tell the driver your destination.
Links and downloads
Smart Card terms and conditions