Keyboard users and screen reader users: After selecting an option from one of the combo boxes below, pressing Tab will take you to the timetable page.
City (Ariki St) to Westown/Hurdon
Map showing Route 4 - Westown/Hurdon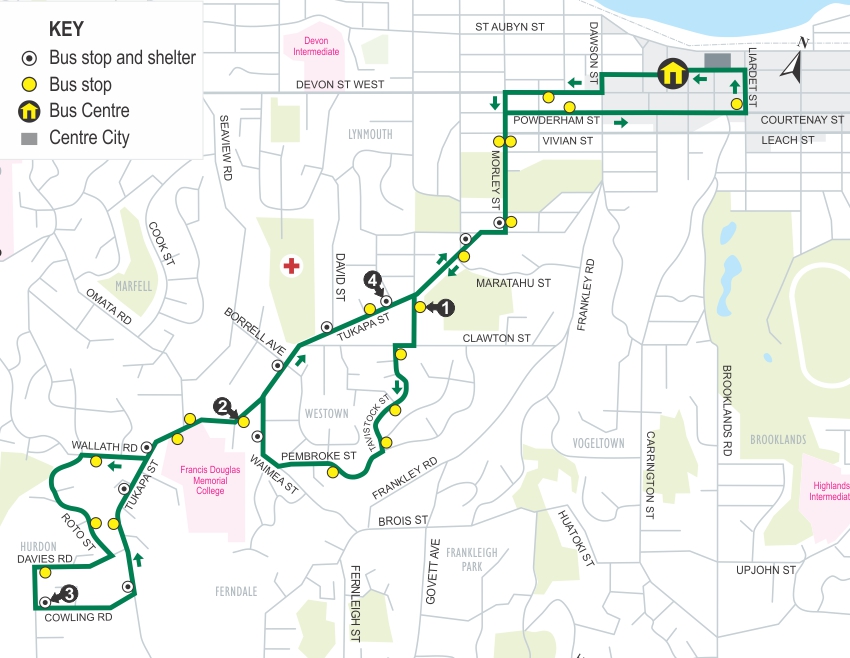 Citylink fares - New Plymouth services
Fares (single one-way, incl GST)
Adult: Bee Card $2.67; cash $3.70.
Child: Bee Card $1.60, cash $2.30
Concessions: Bee Card $1.80, cash $2.30
General information on Citylink fares
Transfers
Bee Cards: If you tag on to another bus within an hour, no charge will apply for the second trip.
Cash: The ticket you get from the driver (your fare receipt) doubles as a free transfer ticket, allowing you to transfer directly from one route to another route within an hour of boarding the first bus. Present the ticket to the next bus driver.
Passengers transferring to Oākura, Bell Block or Waitara services pay the higher of the two fares.
Bee Cards
Bee Card is coming - click for more details
Want discounted fares? Want to avoid the hassles of carrying cash? Bee Card ticketing is available on all services.
Bee Cards are free until the end of October 2020. After that, the initial cost is $10 — $5 for the card and $5 worth of travel to get you started. The minimum recharge amount is $5. They can recharged on the bus (cash only) or at Puke Ariki i-SITE, Ariki St Bus Centre, Waitara Library, Bell Block Library or Tranzit Coachlines.
Cards can be obtained online at www.beecard.co.nz, or from:
Puke Ariki i-SITE.

Bus Centre Ariki Street, (Dalroy Tours office), between 9.30-3.30pm Monday to Friday

Tranzit Coachlines, 15 Sunley St, New Plymouth.
Links and downloads
Bee Card terms and conditions(external link)