Temporary Bus Stop Change - Ngamotu Road
From Monday 10 January until 31 May 2022 roadworks on Ngamotu Road will divert buses up Marama Crescent, left into Paritutu Road and right into Port View Crescent.
Bus services impacted:
Citylink route 1 - Moturoa
Citylink school route 41 - Omata to Highlands
Bus stops not operating:
68 Ngamotu Road
108 Ngamotu Road
Please use bus stops located near:
Ngamotu Road Dairy
2 Marama Crescent
Opposute 11 Port View Crescent (temporary)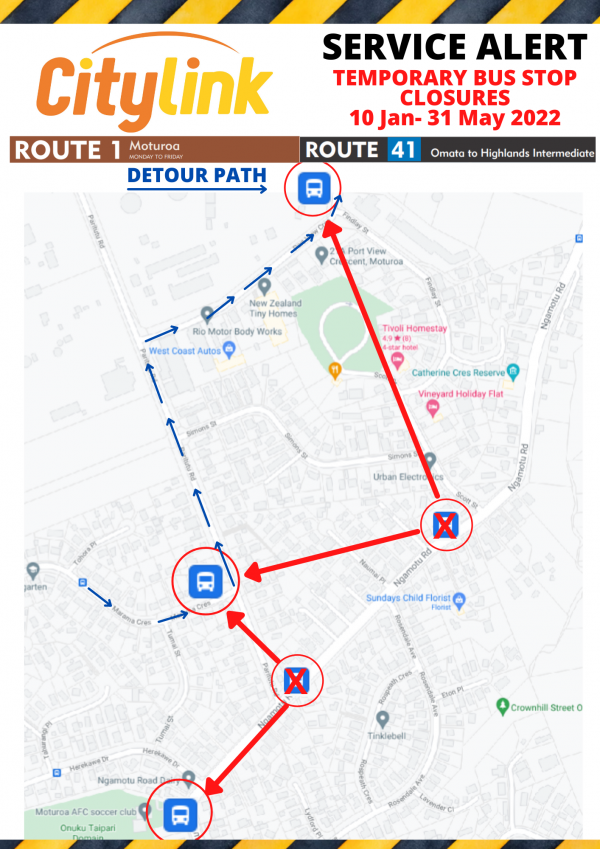 BUS SERVICES IN 'ORANGE' UNDER COVID-19 PROTECTION FRAMEWORK'
View our bus routes and timetables for the Citylink New Plymouth school and commuter services, as well as the Southlink and Connector services.
COVID-19 information for passengers
New Plymouth Citylink bus information: 0800 87 22 87
Hāwera-New Plymouth Connector bus information: 0800 26 63 28

Keyboard users and screen reader users: After selecting an option from one of the combo boxes below, pressing Tab will take you to the timetable page.