Taranaki's average monthly rainfall exceeded the norm in June - the first wetter-than-normal month so far this year.
Individual totals at our monitored sites ranged from 79% to 147% of normal, for an average of 111%. Only six sites recorded below normal monthly rainfall - Kahui Hut (98 %), Pohokura Saddle (97 %), Manaia (88 %), and in the eastern hillcountry, Charlie's Clearing (79 %), Moana Trig (85 %) and Ngutuwera (91 %).
Rain was recorded on 13 to 20 days across most sites, with those on the mountain getting rain on 21 to 24 days.
Year-to-date rainfall, however, remains below normal across all monitored sites, ranging from 60% to 93% with an average of 78%. Our site on the Waiwhakaiho River at Egmont Village recorded 1012mm (93% of normal) for the first six months of the year, while Manaia recorded just 323mm (60%).
June 2020 rainfall maps
June 2020 rainfall maps [PDF, 943 KB]
What you should know:
The site maps show data from a selection of the sites we monitor, but not all of them.

The distribution maps are based on mathematical modelling and may not accurately represent actual rainfall in some unmonitored areas.
Click on each map for larger version.
MONITORED SITES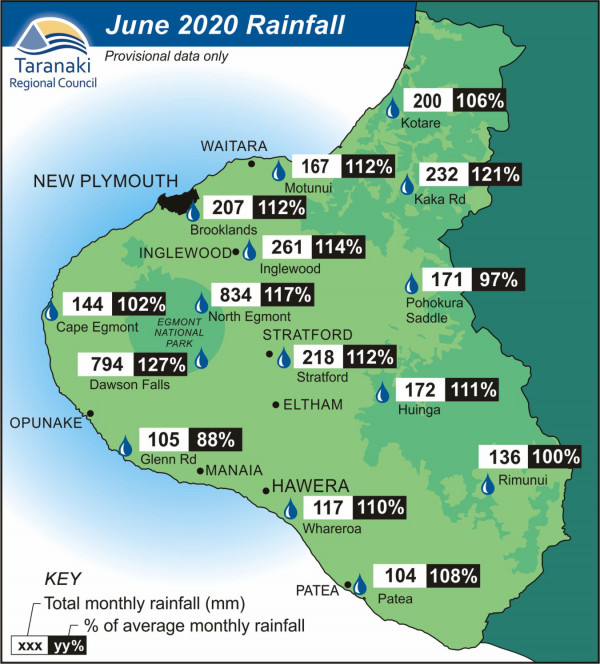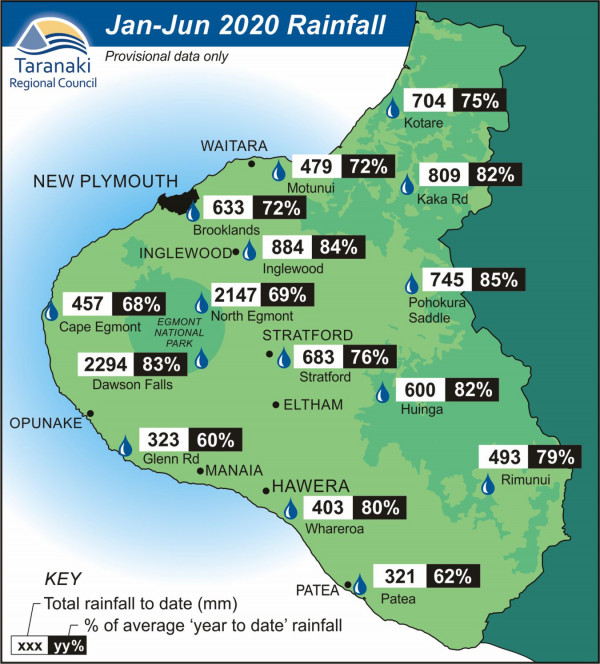 RAINFALL DISTRIBUTION