How dry was January? Very. Rainfall at all our monitored sites was less than half the normal January total.
They ranged from 10% to 47% of normal, for an average of just 27%.
Stratford and Ngutuwera (Waitōtara Valley) recorded new January minimum rainfall totals with 19.5mm and 13.5mm respectively. Stratford got 18mm of its monthly total in a single day.
January 2020 rainfall maps [PDF, 849 KB]
What you should know:
The site map shows data from a selection of the sites we monitor, but not all of them.

The distribution map is based on mathematical modelling and may not accurately represent actual rainfall in some unmonitored areas.
Click on each map for larger version.
MONITORED SITES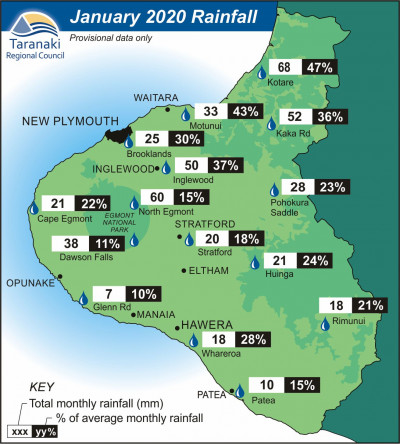 RAINFALL DISTRIBUTION