Culverts, weirs and dams, can delay or prevent fish movements when poorly designed, installed and maintained.

The consequence is a reduction in the distribution and abundance of some of our most iconic and valued freshwater species.
Providing fish passage
From September 3 2020, resource consents are required for new culverts and weirs in rivers that do not comply with permitted activity standards for fish passage.
New instream structures requireing a resource consent must meet minimum maintenance and monitoring requirements.
Information on the design and preformance of new instream structures apply.
Key information
You must advise the Taranaki Regional Council (the Council) two days before installing a new structure and provide the Council with specific information within 20 days after the installation.
Ensure that any new structures built on your property allow for fish passage - to find out more please head to the DOC Fish Passage Management information(external link). You may need resource consent for this type of work.
If you have an existing structure that may require fish passage remediation or are seeking to install a new instream structure to allow for fish passage a resource consent may be required.
For fish passage and resource consent advice or to notify us of any new or planned in-stream structures, contact the Council via info@trc.govt.nz.
TRC Factsheet
Structures in rivers and lakes and reclamation of rivers [PDF, 1.3 MB]
Removing barriers to fish passage
Many of NZ's native freshwater fish, such as eels, whitebait, bullies, lamprey and torrent fish spend part of their lifecycle in the sea and need unrestricted access to survive.
Instream structures across Taranaki are blocking or impeding the passage of native fish and trout.
The council work to identify the location of all farm culverts and while not all will be impacting on fish passage, assessment tools can help identify and remediate the ones that are.
Working together to remove or provide fish passage in Taranaki ring plain streams.
Taranaki Fish and Game
Iwi partners
Consent holders
DOC
Kaūpokonui River Story
Fish can move freely up and down Kaūpokonui Stream for the first time in 120 years thanks to the removal of a disused weir. Up to fifteen native fish species may have been affected by the weir, and they will no longer have to jump or climb (which was previously the only option for fish passage) to navigate their way upstream. Read more about the project here.
Fish passage design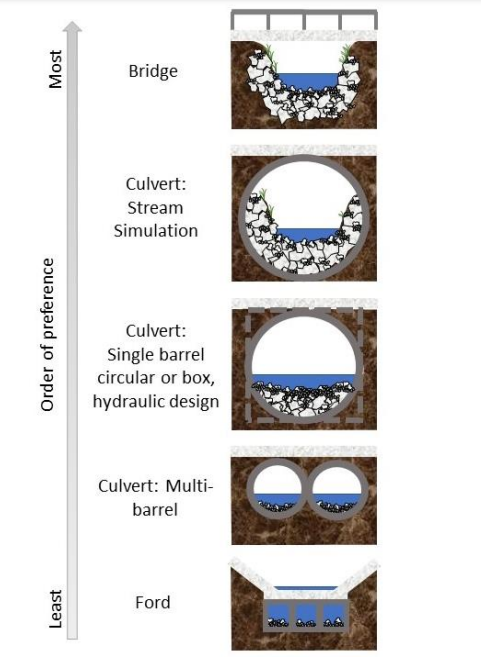 More information and resources