Our vision: The best regional stadium in New Zealand that regularly hosts local, regional, national, and international sports and entertainment events.
Yarrow Stadium is being redeveloped to ensure its stands meet earthquake standards and the venue remains fit for purpose in the post-COVID era.
The project has a $50m budget, of which $30m is being funded by ratepayers. The remaining $20m is being covered by a Government grant under the 'shovel-ready' economic stimulus package to kick-start work on major projects.
The venue's two grandstands were declared earthquake-prone and closed in 2017 and 2018. The $50m repair and refurbishment project was approved in 2019 and subsequently reviewed and modified to allow for the impacts of the COVID-19 pandemic.
Here you can find out more about about the project and to see timelines for its various components.
What's changing | Timelines | Project details
Also see our Yarrow Stadium Q&A page.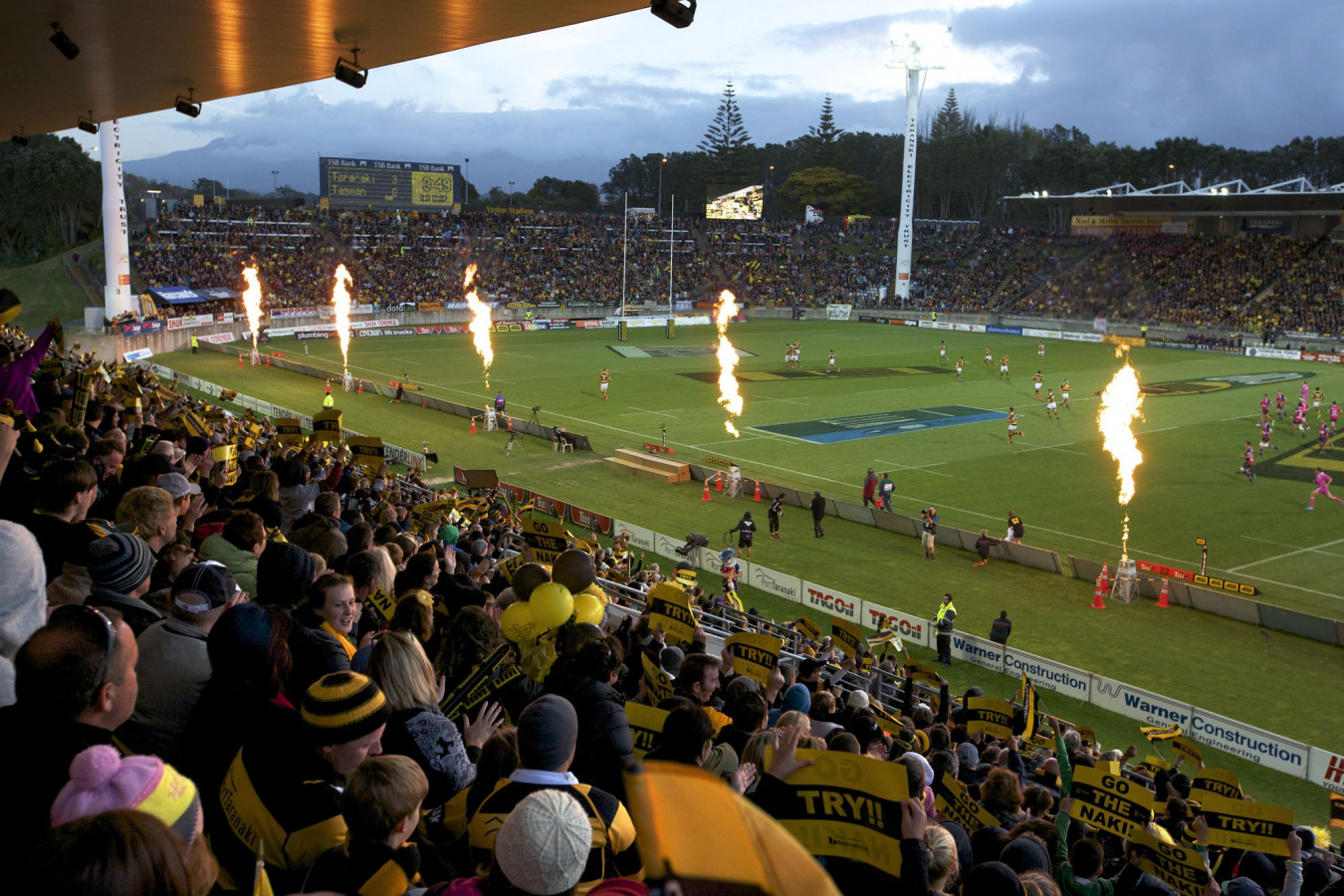 What's changing?
The redeveloped Yarrow Stadium will cater for a broad range of regional and community sporting and other events, while remaining Taranaki's premier venue for top-level sport.
It will include:
A redesigned and rebuilt East Stand with more space for events such as conferences and trade exhibitions, and flexible and scalable seating capacity. The aim is for capacity at top-level sporting fixtures to at least equal that of the old stadium.
East Stand facilities (toilets, showers, changing rooms, food and beverage areas) available to users of the outer fields without needing to open up the entire stand or stadium.
A new hybrid main pitch that will last longer than natural turf and take less time to recover after fixtures.
Upgraded LED lighting for the main pitch, replacing the current lighting which is beyond the end of its life.
Other enhancements
How long will it take?
West Stand repairs got under way in late 2020 and are expected to be finished by November 2021. The aim is to also have the main pitch refurbishment and LED lighting upgrade completed by February 2022. The Stadium would then be able to be used for events and fixtures including the 2022 NPC, with one stand available.
Design of the new East Stand should also be finalised by the end of 2021, as should the demolition of the old stand.
The new East Stand will be built in the subsequent two years, with contractors and equipment to be based on the No 2 field.
At a glance - progress so far

Project component
Current status
Expected completion
West Stand repair
Under way
November 2021
East Stand demolition
Contract awarded
Work under way
November 2021
New East Stand design
Design panel established
Tenderers shortlisted
December 2021
LED lighting upgrade
Design/scope being finalised
February 2022
Main pitch upgrade
Tenders being assessed
February 2022
New East Stand construction
2023-2024
Keep up the connection
Many in Taranaki feel connected to Yarrow Stadium. Thousands of us have enjoyed countless big moments there over the years at popular events ranging from community celebrations to international and national sports fixtures and even stunt motorcycle exhibitions. With te maunga as a backdrop, it's also an important window on the region for the rest of the nation and the wider world.
You can keep up with stadium news on these pages or on the Yarrow Stadium Facebook page(external link).
We'll be holding regular briefings for near neighbours of the stadium, who can also sign up for neighbourhood newsletters about the project.
We're also working liaising with our our Stadium partner, the New Plymouth District Council, as well as Sport Taranaki, sporting codes and other Stadium users, and iwi.
In a nutshell
Learn about the different components of the redevelopment and where they're at.
West Stand
Repairs under way
The West Stand is being repaired. It requires major earthquake strengthening works, including improvements to ground stability, foundation tiebacks and new steel beams. This will involve the removal of all bleachers and seating to gain access to the ground below, as well as structural components. The West Stand roof will remain intact. This was the first project component to be tendered and site work started in December 2020. The lead contractor is New Plymouth-based Clelands Construction.
East Stand
Demolition contract awarded and work under way; potential design tenderers shortlisted
The East Stand is being demolished and replaced by a new stand. The decision to rebuild rather than repair arises from a number of known complications, including poor ground conditions, the integration of the old grandstand structure, and insufficient foundation strength. Other issues were likely to be identified as repairs proceeded.
Building a new stand has created an opportunity to design a facility suitable for a wider range of uses including conferences, trade shows and other non-sport events, both public and private.
The rebuilt stand's amenities – public toilets, changing rooms, showerss and food/beverage areas – will be available to users of the outer fields without the need to open up the entire stand or rest of the stadium. The new stand will also have flexible and scalable seating capacity so it can cater for events and fixtures at all levels.
The rebuilt stand will also see the needs of the venue's sports users accommodated under one roof. So there is now no requirement for a stand-alone training centre incorporating community facilities and amenities, as originally planned.
Demolition of the existing East Stand will proceed while its replacement is being designed. Preparations are under way to tender these components of the overall project.
Main pitch lighting upgrade
Design and scope being finalised; potential tenderers shortlisted
The existing lighting needs urgent replacement. It is at the end of its life and potential risks were highlighted by a fire in one of the light towers after a fixture in 2017.
LED lighting will be installed.. Structural assessments of the existing towers has confirmed they can be retained and support the new technology.
The project will be timed around progress on West Stand repairs.
Main pitch turf upgrade
Tenders being assessed
A hybrid turf, a blend of natural sports turf laid over artificial fibre, is the preferred option. This surface combines the benefits of artificial and natural turf, providing a grass surface that can support high levels of use. Hybrid turfs are used at major stadiums in Hamilton, Auckland, Dunedin, and Wellington.
A shortlist of contractors has occurred and the project will be timed around progress on West Stand repairs.