The Long-Term Plan (LTP) covers crucial issues that impact on you and your family – your livelihoods, your lifestyles and the future direction of Taranaki.
Submissions have closed on the 2021/2031 Long-Term Plan.
2021/2031 LTP Consultation Document [PDF, 2.5 MB]
Supporting documentation for LTP [PDF, 4.1 MB]
On this page:
The big questions | Budget details | Rates | About the TRC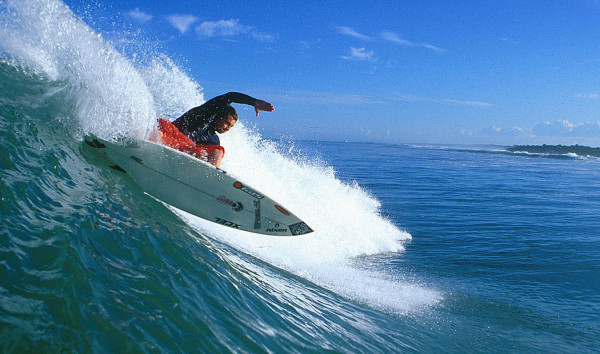 Riding the tide of change

A message from the TRC Chair, David MacLeod …
The TRC is riding an incoming tide of far-reaching change that's bringing challenge and excitement on many fronts.
One of these is the health of our waterways, which is of vital importance to all in Taranaki. And thanks to long-term efforts and investments right across the community, Taranaki ahs already made good progress in improving the health of our rivers and streams.
But New Zealanders clearly want to see more and bigger improvements. So we must do more. The Government has started rolling out new standards, requirements and regulations, and the TRC must make significant new investments in skilled staff, specialist equipment and expanded monitoring programmes.
The freshwater reforms also include requirements for greater Māori involvement in environmental management – and we can expect more of the same as new legislation emerges to replace the Resource Management Act. So expect to see deepening and more effective partnerships at all levels of the Council.
Other issues on our radar include:
The future of our bus network. Do we want greener buses? Do we want them to cover more communities and/or run more often?
How should we work together with other councils and agencies to support the development of the region and its recovery from the impacts of COVID-19?
What should we do about the TRC's offices, which are no longer fit for purpose?
What does the community feel about the ownership of Port Taranaki Ltd. Is it time for a change?
The big questions
The public's views have been sought on these issues:
Meeting freshwater aspirations
The Council must invest more in environmental science and policy to be able to implement the Government's Essential Freshwater reform package. It's shaping up to be the largest single project in the Council's history.
Taranaki already has a good story to tell about freshwater. Farmers, industry and councils have all been investing time, money and effort into making our rivers and streams healthier. And results have been encouraging. But now we're being called upon to do more and do better. As well as taking on a lot more specialist staff and doing much more monitoring, the TRC also needs to ensure that this precious resource is managed in an effective and meaningful partnership with Māori.
The Council is obliged to make these changes.
Freshwater vision
What's your vision for our rivers and streams? Our planning team would love to know. Take part in their survey at www.trc.govt.nz/vision.
Which way for the buses?
Many in the community want Taranaki's buses to run more often and in more places, and powered by alternative fuels. That message has already been delivered to TRC.
Now it's time to decide on the scope and pace of any changes, bearing in mind that ratepayers and taxpayers must also foot much of the extra cost.
Should we convert all the bus fleet to alternative fuel at once, or convert a portion for now to reduce the cost impact? And how happy are you as a ratepayer/taxpayer to help meet the cost of uneconomic bus services?
Office options
The TRC operates out of the former Stratford dairy factory, which was converted to office accommodation in the 1980s. But staff numbers have increased and will continue to do so under new Government environmental requirements.
Even allowing for the increasing trend towards remote working, the existing office is too small and no longer fit for purpose. Refurbishment looks like the least expensive option, rather than building new on the existing site or elsewhere.
The Council's work touches the lives of Taranaki people in many ways. We have a duty to the public to work efficiently and to be good employers. We're interested in your views on options for addressing our office accommodation needs.
Make a submission on TRC office accommodation(external link)
COVID-19 recovery opportunities
The Government continues to make financial support available for COVID-19 recovery efforts and it expects regions be united in their requests for funding assistance.
Taranaki's four Councils and other agencies are working together on a Regional Recovery Plan incorporating a range of projects across all three districts, including iwi-led initiatives.
Projects that are potential candidates for funding assistance need to be thoroughly assessed and prioritised. And for those that make the grade, a compelling case for assistance must be developed and put to the Government.
This all costs time and money, but the potential returns make it a worthwhile investment. TRC has provisionally agreed to meet 20% of these costs.
And while you're here ...
The Council is interesed in a couple of additional issues;
Port Taranaki's future ownership
The Council's major investment by far is its 100% ownership of Port Taranaki Ltd (PTL). It's provided steady and reliable dividends that have offset rates over many years.
But it's wise to review your investments from time to time and the Council will soon launch a formal and thorough review of its PTL ownership arrangements. If the review concludes that it's time for a change, we'll need to come back and talk to the community again.
Māori voices and Māori votes
Recent years have seen greater efforts to recognise and include Māori cultural perspectives and practices in decision-making as well as everyday activities. Change is continuing apace, with the Council working to meet new Government requirements for greater Māori involvement in environmental monitoring and management, particularly for waterways. We can only expect the trend to accelerate as new legislation emerges to replace the Resource Management Act.
Let's talk money
Below is a summary of our projected income and expenditure for 2021/2022, and its impact on rates. For detailed financial information, download the supporting documentation for the LTP
Supporting documentation for LTP [PDF, 4.1 MB]
Where will the money come from?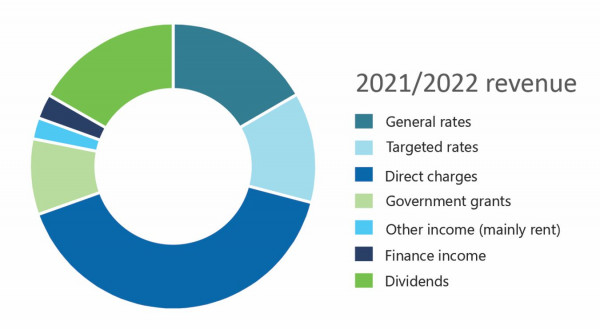 Did you know that rates account for less than a third of TRC's income? We also fund our work from investment returns (primarily dividends from Port Taranaki Ltd), user charges and grants from central government and others.
How will the money be spent?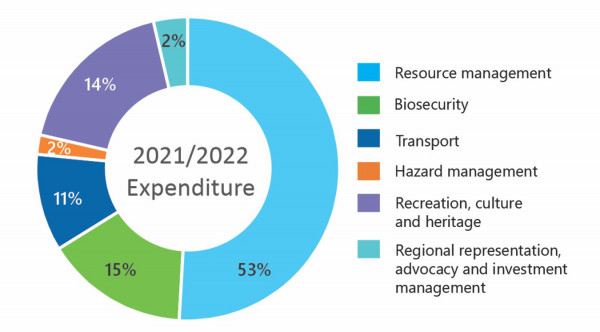 TRC's activities and programmes fall into these six key areas. Their share of our total spending ranges from around 53% for resource management to 2% each for hazard management and for regional representation, advocacy and investment management.
What will this mean for rates?
The total rate take (general and targeted rates) is planned to increase by $1.38m or 9.9% for 2021/2022. For most ratepayers the financial impact can be measured in tens of dollars over the course of a year. The rates impact on your property might be different as the exact amount varies depending on where you live within the region, the services at your property, and the type and value of your property. Here are some examples:
New Plymouth / North Taranaki

Property
class

Property
value

Rates
2020/2021

Proposed rates
2021/2022

Change
for year

Residential
$500k (capital)
$232.26
$257.96
↑ $25.70
Farm
$2m (capital)
$718.02
$778.66
↑ $60.64
Commercial
or Industrial
$500k (capital)
$150k (land)
$342.87
$316.53
↓ $25.13
Small holding
$500k (capital)
$232.26
$257.96
↑ $25.70
Stratford - all property classes

Property
value

Rates
2020/2021

Proposed rates
2021/2022

Change
for year

$500k (capital)
$193.68
$213.81
↑ $20.13
South Taranaki - all property classes

Property
value

Rates
2020/2021

Proposed rates
2021/2022

Change
for year

$500k (capital)
$174.22
$203.05
↑ $28.83
To calculate your own rates based on the current proposals, follow the formula set out in this document:
Calculate your own rates [PDF, 509 KB]
Make a submission
Submissions have now closed. A hearing will be held on 10-11 May before the Long-Term Plan is finalised and adopted.
About the TRC
Here's how the Taranaki Regional Council works with the Taranaki community to help make the region a fantastic place to live, play and do business:
Improving lifestyles
Checking river health
Monitoring swimming spots
Restoring native habitats
World-class Pukeiti, Tūpare and Hollard gardens
Public bus services
Investing in Yarrow Stadium.
Assisting Puke Ariki, heritage and culture
Supporting livelihoods
Reporting environmental performance
Promoting riparian fencing and planting
Supporting sustainable farming
Eliminating possums, other predators and pest plants
Providing flood protection
Monitoring nature's extremes
Taking Taranaki forward
Connecting people and planning for the future
Supporting community initiatives
Building scientific knowledge
Educating future generations